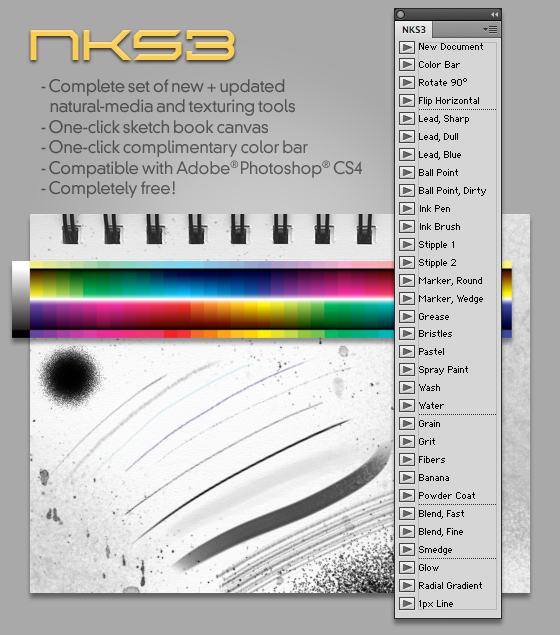 NKS3 is a custom tool palette built for Adobe Photoshop CS4 using Adobe Configurator. The purpose of NKS3 is to provide a fast and realistic natural media drawing experience within the Adobe Photoshop environment by facilitating an excellent array of custom-built tools in a compact, centralized palette.
NKS3 is not aimed at creating fast or cheap effects, but at providing universal, quality tools that can be used in any number of situations, but primarily geared for concept designers, industrial designers, illustrators, and general sketch making.
The NKS3 palette is divided into 5 sections, broken down as follows:
Document Utilities
1. New Document: opens a new document, fills the background with a hi-res scan of a sketch pad, locks the layer, creates a new layer for drawing, notches on the left and bottom edge are aligned at 1/4″ increments with the documents grid
2. Color Bar: intended for use within a document created via. the 'New Document' tool; loads a complimentary color bar into a locked layer for sampling
3. Rotate 90°: rotates the current document 90° clockwise
4. Flip Horizontal: flips the current document horizontally
Natural Media Tools:
1. Lead, Sharp: newly tipped lead
2. Lead, Dull: used and dull lead
3. Lead, Blue: 0.7mm Pentel Blue lead
4. Ball Point: standard issue ball point pen
5. Ball Point, Dirty: very well used ball point pen
6. Ink Pen: standard issue gel-ink pen, with slight falloff from ink buildup
7. Ink Brush: hard-edge, dynamic brush
8. Stipple 1: single-dot stipple tip, for feathering
9. Stipple 2: multi-dot stipple tip, for main shading
10. Marker, Round: round-tipped marker, based on Copic N1
11. Marker, Wedge: wedge-tipped marker, based on Copic N1
12. Grease: grease pencil
13. Bristles: simple comb-tipped brush with falloff
14. Pastel: soft, crayon tip
15. Spray Paint: wide, noisy spray paint (no drips, sorry)
16. Wash: light, pigment build-up tool
17. Water: dirty water
Texturing Tools:
1. Grain: fine grain
2. Grit: fine grain with chunks and rubbish
3. Fibers: wide paper fiber
4. Banana: organic texture, sampled from a scan of banana skin
5. Powder Coat: basic powder coat texture
Blending Tools:
1. Blend, Fast: finger-paint with scatter
2. Blent, Fine: click-hold, and agitate quickly across desired path
3. Smedge: could also be a 'smoke' brush, blends but also drops an initial splotch of paint
General Utilities:
1. Glow: basic dodge brush with feathered nozzle
2. Radial Gradient: gradient tool, set to radial, foreground -> transparent
3. 1px Line: basic line tool for drawing out guides
In addition to the new NKS panel, I suggest everyone check out Anastasiy's custom color picker panel for Photoshop. Check out his site here.
Installation instructions included in the zip.
NKS3 is a freeware offering, and is compatible with Adobe Photoshop CS4, on Mac OS or Windows machines.
(ZIP 11.6 MB) (Right-click + Save-As)
If you're using Adobe Photoshop CS5, please download the updated version here.

NKS3 by NKURENCE is licensed under a Creative Commons Attribution-Share Alike 3.0 United States License.