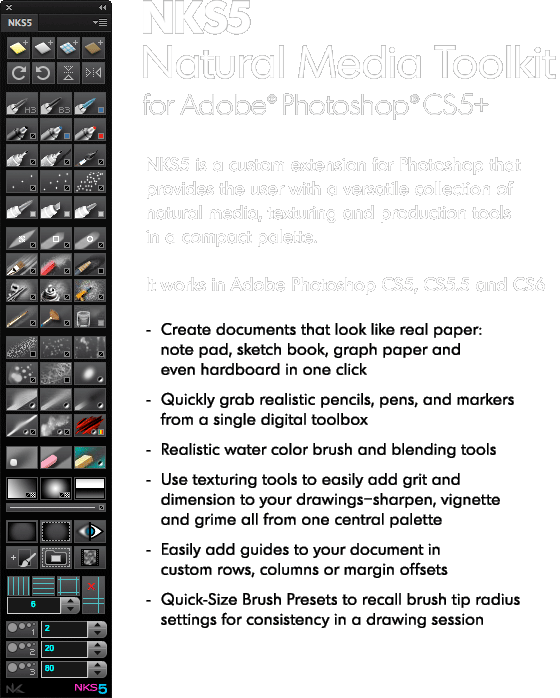 Like all of my personal projects these days, it's been a long time coming, but it's finally here…
NKS5 is a custom toolkit for Adobe Photoshop CS5, CS5.5 and CS6 – it provides a wide range of natural media, texturing and production tools in an attractive, easy to use palette with a minimal footprint. It's a free download, but if you're pro and it's helping or if you just want to see more projects like this come about please consider making a donation below. Donators will receive download links to updates as the're available along with early access to future extensions.



Special thanks to these generous contributors:
Carlos Pinto, David Parnel, Grégory Gonzalez, Yong Park, Brendan Bottomley, Nicholas Breslow, Thomas Simpfendoerfer, A. Mercer, Alanna Mondon, Carlos Casadesus, Matthew Wells, Matthew McClatchie, Vin Hennessy, Sebastian Botero, Allen Young, Amy Williams, Stephen Mantler, Han Smit, Greg Geisler, Mel Brown, Theodore Azriel, and Robert Guersch! Thanks for your support!